Sarita confiesa su amor por el hip-hop (seriously?) y nos da esta colaboración con Theophilus London...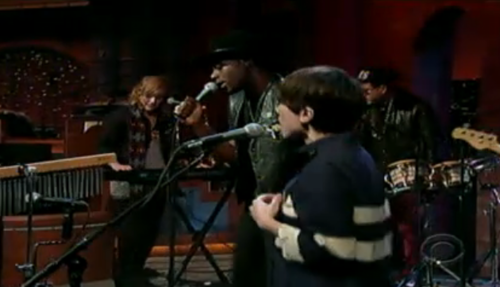 being Mýa
we graduated high school in 1998. our "grad" (that's Canadian for "prom"), was held at a now defunct downtown bar called "the panther club". it was an upscale hoochie bar that would have normally been completely off our radar. being the alternative kids in our graduating class (read: not a part of the ruling popular majority), we ended up skulking and hiding in the club's shadows. our more popular peers danced (grinded, had battles) on the dance floor and the big hits of that year; 'mo money mo problems' by notorious b.i.g., 'i'll be missing you' by p. diddy and 'ghetto superstar' by pras, were big winners that night. hip hop and r&b was so popular at our school and in our neighborhood, that even though i was completely immersed in the punk/rock scene of the late 90′s, that music still found its way into our world easily. i still find myself side swiped by nostalgia every time i hear any of those songs.


why, you ask, do i write about this now!?


WELL. a lot of my favorite records and artists over the last ten years have been hip hop and r&b. in some ways it's the music that inspires me most, and also helps me find inspiration as well as act as a palate cleanser of sorts. sometimes i hear guitars, amps, dense-vague-subtle indie rock and my brain shuts up like a vault. it's important that i have music and art to feed off, especially when its music that seemingly does something entirely different than what i (we) do, in order to remain excited about making music myself!


it's been a secret dream of mine to sing on a hip hop track, something where i could use a different voice, different spirit. i was so delighted/excited/freaked out when i got an opportunity to do exactly that with the phenomenal theophilus london! you can grab the track now here: http://theophiluslondon.net/

and be sure to get his record, lovers holiday on february 8th!

that's all for now!

skq
El tema en su version original:
Y ayer toco en vivo en el show de Letterman
Video y nota:
http://www.afterellen.com/people/2011/02/sara-quin-on-her-love-of-hip-hop-and-performing-on-letterman-with-theophilus-london-tonight
Y de aca se lo pueden bajar:
Video
http://www.sendspace.com/file/b2776k
Mp3 del en vivo
http://www.sendspace.com/file/34t4y4
Esos son del .ca y este es mio:
Version estudio del tema:
http://www.sendspace.com/file/23rhkn
Letra:
You stole my heart like a thief in the night
Stopped in your tracks in the middle of a fight
To make it right let the brimstones burn
I'll letchu live yours, now let me have my turn
Butchu wrong thinking you could stop time
A few hours ahead baby girl not mine
I look ahead i know you see the stop signs
Blind men know, it's not agreeing on time
You drive me insane mrs. rain cloud
Moving on the road, took the same vow
Now i'm tryna u-turn on the way out
The fire all around us is played out
Standing on all fours on the bed
They say some things is better not said
Ill horns on your head
I betchu'd rather stick horns on your head
I betchu'd rather stick horns on your head
If you think you're special, you're probably not
Why even try (why even try)
Just living a lie (living a lie)
Never been like that (never been like that)
Why even try why even try to change
Okay okay mrs rain cloud
Make the sun shine til the days out
You're not alone, call my name out
But what if, there's no way out
And look, the words are an article
Reception is bad when i'm calling you
Confusion, and it's the thought of you
You're no spy, i'm onto you
This letter was written in bitter form
So read carefully, don't get it wrong
See thats us, but thats gone
The scarecrows, on the back lawn
Thats another dress, well put that on
I keep it real, is that wrong?
I betchu'd rather stick horns on your head
I betchu'd rather stiff horns on your head
If you think you're special, you're probably not
Why even try (why even try)
Just living a lie (living a lie)
Never been like that (never been like that)
Why even try why even try to change
Making little sunshine
Til the days out
Making your sunshine
Til your calling my name out
What if there's not a simple way out
Reception is bad and you're calling me now
Never been like that
Never been like that
Break
If you think you're special, you're probably not
Why even try (why even try)
Just living a lie (living a lie)
Never been like that (never been like that)
Why even try why even try to change