América TV transmitirá de manera exclusiva para Argentina , 15 de noviembre, UFC 180, el primer evento de UFC en México, a partir de las 22 horas.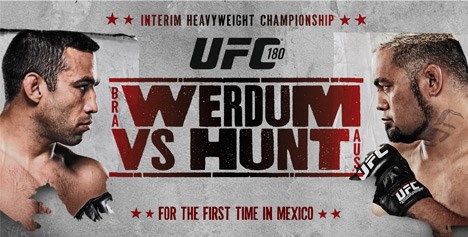 Tras la lesión de Caín Velásquez, actual campeón, el UFC180 contará con el enfrentamiento entre el brasileño Fabricio Werdum y el neozelandés Mark Hunt por el título interino como pelea principal de la noche. El evento se completará con los Peso Welter Kelvin Gastelum (US) vs Jake Ellenberger (US), los peso Pluma Ricardo Lamas (US) vs Dennis Bermudez (US), y los Welter Edgar Garcia (MX) vs Héctor Urbina (US), entre otros.
Oriundo de Porto Alegre, Werdum lideró el equipo de Latinoamérica en la primera temporada de la versión latina del reality show The Ultimate Fighter.
Además del main card, la cartelera preliminar de la noche incluirá las 2 peleas definitorias de la primera temporada del reality show The Ultimate Fighter Latinoamérica. UFC 180 será el escenario para conocer a los ganadores de la primera temporada latina de las categorías Peso Gallo y Peso Pluma.
Cartelera:
Main card
Fabrício Werdum vs. Mark Hunt
(interim UFC Heavyweight Championship.)
Jake Ellenberger vs. Kelvin Gastelum
Ricardo Lamas vs. Dennis Bermudez
Augusto Montaño vs. Chris Heatherly
Edgar García vs. Héctor Urbina
Preliminary card
Yair Rodríguez vs. Leonardo Morales
(Final de Peso Pluma TUF Latin America.)
Alejandro Pérez vs. José Alberto Quiñónez
(Final de Peso Gallo TUF Latin America.)
Jessica Eye vs. Leslie Smith
Gabriel Benítez vs. Humberto Brown
Enrique Briones vs. Guido Cannetti
Marco Beltrán vs. Marlon Vera