Video to Mp3 converter + Audacity
hola amigos taringueros, hace un tiempo que conozco esta grandiosa comunidad y ahora por fin me animo a hacer mi primer post. Espero no pifiarle...
Les dejo estos programas que me resultan muy utiles y lo mejor de todo es que son
gratuitos
:
Free Video to MP3 Converter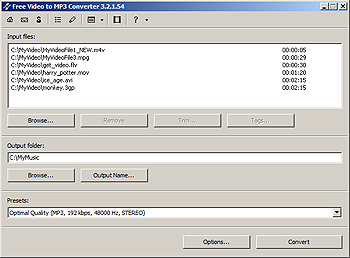 Free Video to MP3 Converter extrae el audio de videos en formatos: avi, mpg, mpeg, mp4, wmv, asf, mov, qt, 3gp, 3g2, swf y
flv
; y los guarda como MP3
Trae predefinidas 3 calidades:
- High Quality (MP3, 256kbps, 48000Hz, STEREO);
- Standard Quality (MP3, 128kbps, 44100Hz, STEREO);
- Economy Quality (MP3, 96kbps, 22050Hz, STEREO).
Está totalmente limpio de adware y spyware
DESCARGAR
Audacity
Audacity es un programa libre y de código abierto para grabar y editar sonidos.
A pesar de ser muy liviano (
2.1MB
), es muy portente y completo
DESCARGAR
Espero que les sirva este humilde aporte y si le pifie en algo avisen