Sunset Cabin – Lake Simcoe, Ontario
Taylor Smyth Architects – Canada
English text at the end
Un lugar para acostarse a mirar el atardecer, el principal requerimiento para una cabaña que consiste en una única habitación de 30m2 que se expande en una terraza hacia el lago. Para sus dueños es el sitio ideal para huir de todo, aun de la propia casa de vacaciones.
Prefab/ green-roofed/ cedar 275 s.f. room. "Three walls of the cabin are floor to ceiling glass, wrapped by an exterior horizontal cedar screen on two sides for privacy and sun shading."
La cabaña de cedro y madera laminada fue construida inicialmente en una plaza de aparcamiento en Toronto, durante un mes, por operarios que normalmente construyen mobiliario. Luego fue desmontada, clasificando las piezas, y vuelta a montar junto al lago, operación que se hizo en diez días.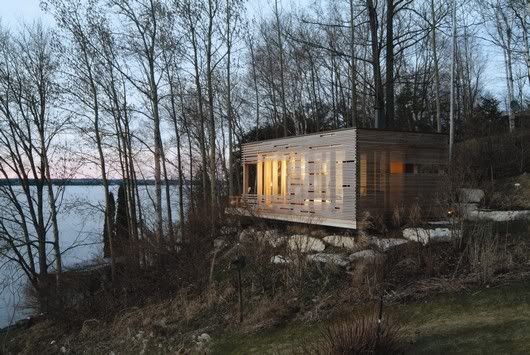 Una de las paredes es un armario. Las otras tres son de cristal, de suelo a techo. Dos de éstas están protegidas por una celosía de lamas horizontales, en la cual se abrieron estratégicamente huecos que seleccionan determinados fragmentos de la vegetación, el cielo y el lago, componiendo con ellos un paisaje especialmente diseñado para ver desde la cama. Desde afuera, la celosía actúa como un cerramiento inteligente por naturaleza, aumentando o disminuyendo la privacidad según el observador se acerque o se aleje. Por la noche las lamas tamizan y ordenan la luz interior produciendo el efecto linterna. El cristal y la celosía no son paralelos de modo que en un extremo hay espacio suficiente desde el cual limpiar el cristal.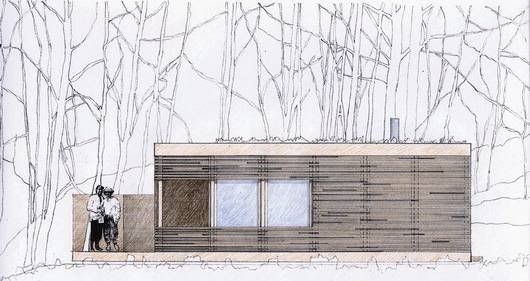 Pero si algo caracteriza a Sunset Cabin es su sensualidad, que sin duda se funda en tres pilares: la integración con el medio natural y la evocación de aquellas cabañas de troncos descriptas por Laugier en el siglo XVIII, combinada con detalles propios de la casa de cristal de Mies van der Rohe.
Para el emplazamiento se eligió un sector relativamente llano, con buena vista del lago y sin árboles que talar. La construcción prefabricada descansa sobre dos vigas de acero apoyadas en cuatro pilotes de hormigón. De este modo, la cabaña casi no toca el terreno. La cubierta está vegetalizada.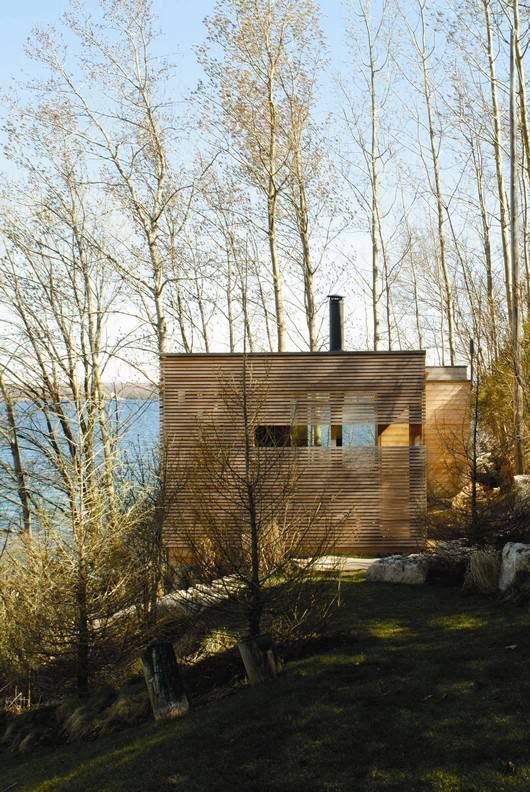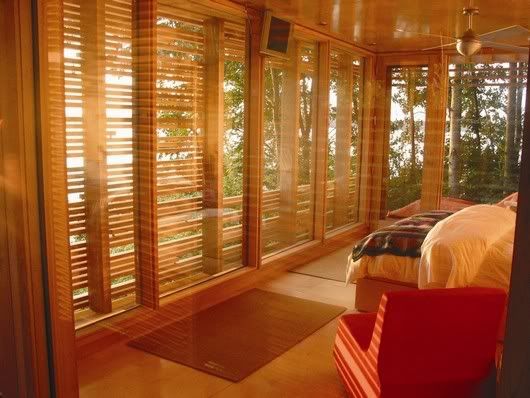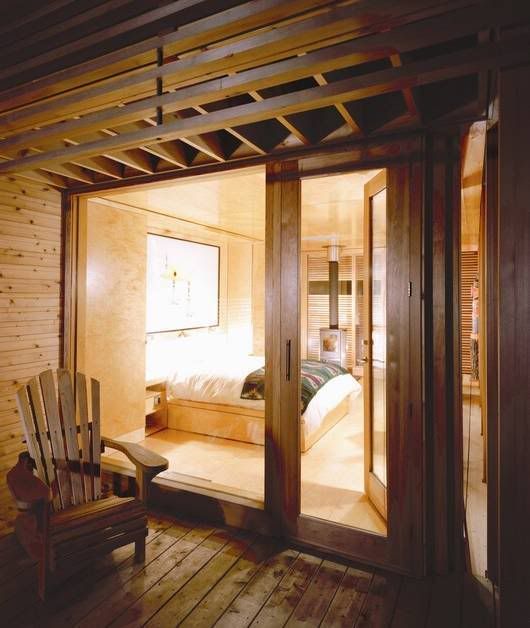 Taylor Smyth Architects
www.taylorsmyth.com
Design Team:
Michael Taylor, partner-in-charge; Michael Lafreniere
Fotos:
Ben Rahn, A-Frame Inc.
Memoria original en inglés:
The clients entertain up to 15 overnight visitors at a time during the summer at the family cottage on Lake Simcoe, to which they have been coming for the past 25 years. During the summer, they move to the cottage full time, while the husband, a successful entrepreneur, commutes from there to Toronto two days a week. They requested a private retreat – a separate sleeping cabin for their personal use. Their primary requirement was to be able to lie in bed and watch the sunset.
The project consists of a single 275 s.f. room. All components are built in, including the bed and a wall of storage cabinets on either side. The floor of the cabin extends outside towards the lake to become a deck with access to an outdoor shower enclosed by a cedar screen.
The cabin is fabricated of clear cedar for window frames, doors and cladding. The cedar is untreated, gradually turning silver and blending the structure into the landscape. All interior surfaces are birch veneer plywood panels - floors, back wall and ceiling and storage, so no repainting is required.
Since occupying the cabin, the client couple claim increased enjoyment of their time at the cottage. "The view is our entertainment", rather than the rarely used built-in flat screen TV. They follow the change of seasons as well, and have also extended the duration of use well into December, several months more than in previous years.
Prefabrication:
The cabin was first constructed in a parking lot in Toronto over a period of 4 weeks by a group of craftsmen who usually build furniture. This allowed for details to be worked out precisely and all the components to be pre-fabricated. These were numbered, disassembled and reconstructed on site in just 10 days. The client is the kind of person who insists that everything be built correctly the first time. Prefabrication reduced costs by an estimated 30% by decreasing construction time and simplifying the difficulties of working at a remote, sloping site, and hence reduced labour costs.
Experiencing the Landscape:
Three walls of the cabin are floor to ceiling glass, wrapped by an exterior horizontal cedar screen on two sides for privacy and sun shading. A large cut-out in the screen is carefully located to provide spectacular views of the setting sun from the bed. Gaps between the individual members of the screen increase arbitrarily as the cabin gets closer to the lake. The gaps frame snapshots of random, seemingly abstract compositions of vegetation, lake and sky. As the sun sets, the varied openings within the screen filter the light into shifting patterns on the interior surfaces. At night, the effect is reversed and the cabin glows like a lantern.
Openness vs. Privacy:
The client had potentially conflicting requirements for maximum views and openness but privacy from the main cottage. The density of the screen gradually diminishes as it moves away from the main cottage. The screen obscures views in, while enabling views out.
Form Follows Function:
Practical requirements dictated configuration in the case of the long glass wall that angles away from the outer cedar screen to allow space to wash the windows. The result is a fascinating play of light on the glass.
A Modern "Primitive Hut":
The cabin has a direct appeal to all who comes into contact with it. The warm feeling of enclosure provided by the cedar screen and the interior wood surfaces of the floor, ceiling and back wall is juxtaposed by the sensation of being at one with nature due to the floor-to-ceiling glass on three sides. The single self contained room has a subliminal appeal that evokes the original "Primitive Hut" built of tree trunks and branches, described by Laugier in the 18th century, combined with precise modern detailing that calls to mind Mies van der Rohe.
Minimal Disruption to the Landscape:
The cabin is located on an existing level piece of ground, chosen both for its views and to avoid the need to remove any trees. It is supported on 2 steel beams resting on 4 concrete caissons. This allows the cabin to rest lightly on the site, with minimal disruption to vegetation.
A Green Roof, planted with sedums and herbs, allows the cabin to blend into the landscape due to the visibility of the roof from the main cottage at the top of the hill. This also increases the R-value of the roof. Passive Energy Saving Measures are also incorporated: The exterior cedar screen provides sun shading, while doors at each end to capitalize on lake breezes provide cross ventilation.