Gerald Scarfe
Gerald Anthony Scarfe (nacido en Londres el 1 de junio de 1936) es un caricaturista e ilustrador británico. Sus obras incluyen caracterizaciones grotescas de personas públicas de la realeza y de la política.
Sus primeras caricaturas fueron publicadas en la revista Private Eye entre 1960 y 1970.
En 1979 realizó la ilustración de tapa del disco de Pink Floyd The Wall, y en 1982 trabajó en la animación del film de ese álbum conceptual.
En 1997 trabajó para Disney en los aclamados diseños de la película Hércules.
Actualmente trabaja para el diario The Sunday Times.
Está casado desde 1981 con Jane Asher.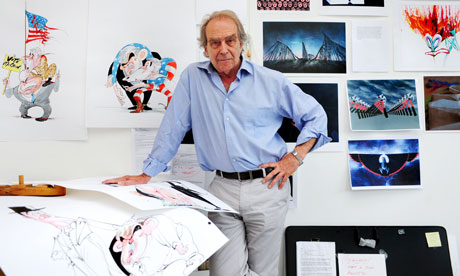 Dibujos:
Pink Floyd The Wall: The Characters
Pink Floyd The Wall-album poster
Pink Floyd The Wall-The Teacher & Mincer
Pink Floyd The Wall: The Marching Hammers
Roger Waters – Billboard Magazine cover
Pink Floyd The Wall: Mother with Pink
Pink Floyd The Wall: Hammer and Sky
Pink Floyd The Wall – The Eagle
Pink Floyd The Wall: The Judge and Pink
Pink Floyd The Wall: Scorpion Wife & Pink
Teacher Being Spanked On the Circular Screen
The Flowers on the Circular Screen
The Teacher on the Circular Screen
The Crossed Hammers on the Circular Screen
Pink Floyd The Wall: Set of 6 prints
Pink Floyd The Wall: The Wife
Pink Floyd The Wall: The Scream
The Frightened Ones
Pink Floyd The Wall: The Alien Landscape
Pink Floyd The Wall: The Flowers Sequence
Pink Floyd The Wall: The Teacher
The Wife's Shadow Looms
Pink Floyd The Wall:Hammers & Judge
The Flowers cell
The Stuker Dives
Pink Floyd The Wall: Anzio Bridgehead
Pink Floyd The Wall: Judge in the Arena
Comfortably Numb
Leaf Man
Pink Floyd The Wall: First Drawing of Characters
The Wall Tour 2010-11: The Teacher
The Wall 2010-11: The Wife
The Wall Tour 2010-11: Mother
Poster for Roger Waters tour of The Wall
Pink Floyd: The Group