Majesty: The Fantasy Kingdom Sim, otro videojuego para Linux
Majesty: The Fantasy Kingdom Sim es un juego de estrategia en tiempo real desarrollado por Cyberlore Studios disponible en muchas plataformas, Windows, Linux, Android, Mac,Symbian, etc. La empresa inglesa Linux Game Publishing publico la version para Linux en abril de 2003.
Requisitos:
Procesador a 166 Mhz o un PowerPC G3
Version de Linux: 2.2.x or later,
Memoria Ram: 48 MB
Requisitos de la version gold:
Minimum CPU: Pentium y PPC.
Memoria Ram:64 MB
Lector optico: CD-ROM 4x+
Memoria de videoL 4 MB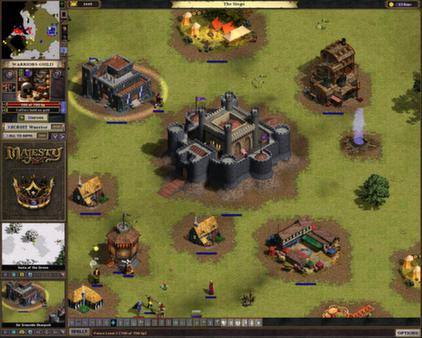 Lanzamiento: Abril de 2003.
Precio: 9.99 $
El juego esta disponible tambien en Steam.
http://store.steampowered.com/app/25990/
Extra:
Otros juegos publicados por LGP son:
Ballistics
Ballistics
Jets'n'Guns
Majesty Gold
Majesty Gold
Sacred: Gold Edition
Shadowgrounds
Shadowgrounds Survivor
X2: The Threat
X2: The Threat (r2)
X3: Reunion
X3: Reunion - Special Edition
Fuentes:
www-linuxgamepublishing-com
http://majesty.wikia.com/wiki/Majesty:_The_Fantasy_Kingdom_Sim
http://en.wikipedia.org/wiki/Linux_Game_Publishing