Ke$ha - Kesha Discografia Y Videografia Completa !!!!! y ++
Breve Biografia
Kesha Rose Sebert, (n. Nashville, Tennessee; 1 de marzo de 1987), simplemente conocida como Kesha o Ke$ha es una cantante y compositora estadounidense. Kesha atrajo la atención de los medios en 2009, tras colaborar con Flo Rida en su single Right Round. En enero de 2010 se lanzó su primer álbum de estudio, titulado Animal, que debutó en el número uno del Billboard 200. Su primer single, Tik Tok, tuvo muy buena recepción comercial y alcanzó el número uno en más de once países.
Ke$ha nació en Nashville, Tennessee, hija de madre soltera. Su madre, Pebe Sebert, cantante y escritora, luchó para poder mantener a Ke$ha y su hermano mayor Lagan. Dependieron por varios años de asistencia social, al otorgarles vales para comida. Pebe mudó a la familia a Nashville, Tennessee en 1991 donde firmó un contrato publicitario en el cual figuró Ke$ha durante varios años. Pebe a menudo llevaba a Ke$ha y sus hermanos, Lagan y Louis, durante ese tiempo, a estudios de grabación, y Pebe alentó a la pequeña Ke$ha a escribir y cantar sus propias canciones.
En 2005, la familia Sebert participó en un capítulo de The Simple Life, como la familia anfitriona, para ese entonces, Ke$ha ya estaba trabajando en su música y decidió abandonar la "Brentwood High School", en Nashville, para mudarse a Los Angeles con el apoyo de Dr. Luke y Max Martin. Dr. Luke, al escuchar los demos de Ke$ha, quedó tan impresionado que la convenció de trabajar con él, desde entonces ella y Max Martin viajaron a New York y Los Angeles para comenzar a trabajar en sus canciones.
Ya en Los Angeles, Ke$ha sobrevivió con poco dinero, pequeñas presentaciones y varios trabajos de camarera, además de su trabajo dentro del estudio. Vivió al inicio con su supuesto padre, presentado por su madre, después se mudó con un chico en el cual estaba interesada; tiempo después se mudó a una casa compartida en Laurel Canyon. Ke$ha quería a Prince como el productor de su primer disco, así que se dedicó a buscarlo y se estableció fuera de la casa del cantante en Beverly Hills; una vez descubierta fue echada de ahí, no sin antes mandarle su demo a Prince, él nunca la contactó. También tuvo la oportunidad de cantar los coros en el segundo sencillo de Paris Hilton, lo cual llevó a un pequeño incidente, Ke$ha vomitó en el closet de Hilton en lo cual escribió una canción donde habla de aquel incidente, la canción se llama "Paris Hilton's Closet".
Poco después, se supo que Ke$ha firmó con RCA Records, gracias al Dr. Luke, así iniciaba la grabación de su primer álbum. El 27 de marzo de 2009, apareció junto a la banda 3OH!3 en una de sus presentaciones en el para luego interpretar juntos la canción "My First Kiss". Más tarde ese año hizo su debut en el escenario de Lollapalooza de ese año. Su primer sencillo "TiK ToK" fue lanzado digitalmente en agosto, pero no fue hasta octubre cuando llegó a la radio. Para entonces Ke$ha había co-escrito una canción para el disco de Miley Cyrus, The Time of Our Lives, y apareció en el disco de Pitbull y Taio Cruz.
Ke$ha fue contactada para ser la telonera de Calvin Harris en su tour promocionar por el Reino Unido, además de ir de tour con Mickey Avalon por Estados Unidos.
Al final descubrio que Andoni no era su hermano de sangre y actualmente esta saliendo con el.
DISCOGRAFIA COMPLETA - FULL DISCOGRAPHY
Es La Version Deluxe (Incluye 6 Canciones Mas)
Track Listing

01. Your Love Is My Drug
02. TiK ToK
03. Take It Off
04. Kiss N Tell
05. Stephen
06. Blah Blah Blah (feat. 3OH!3)
07. Hungover
08. Party At A Rich Dude's House
09. Backstabber
10. Blind
11. Dinosaur
12. Dancing with Tears in My Eyes
13. Boots and Boys
14. Animal
15. VIP
16. Dirty Picture (Taio Cruz featuring Ke$ha)
17. Cunx Tuesday (Bonus Track)
18. Frenzy (Bonus Track)
19. Chain Reaction (Bonus Track)
20. Mr Watson (Bonus Track)
21. Tik Tok (Wolfedelic Club Mix)(iTunes Bonus)

Track Listing

01. Bootycall
02. A La Discotheque
03. Coming Unglued
04. D.U.I.
05. Kiss Kiss – Hug Hug
06. Not My Problem
07. Strange Love
08. This Is Me Breaking Up With You
09. Uncensored
10. Honkey Tonk Song (Live) feat. Legan
11. Dance Attack (Clip)
12. Lucky (Clip)
13. Red Lipstick (Clip)
14. Tell Me You Love Me (Clip)
15. Ur Not My Daddy (Clip)
16. Boys (Clip)

Track Listing

Amnesia
Baby, It's You
Bad Dream
Boys
Butterscotch 2.0
Red Lipstick
Ur Not My Daddy
Want U Bad (feat. Travis McCoy)
Who Do You Love

VIDEOGRAFIA - VIDEOGRAPHY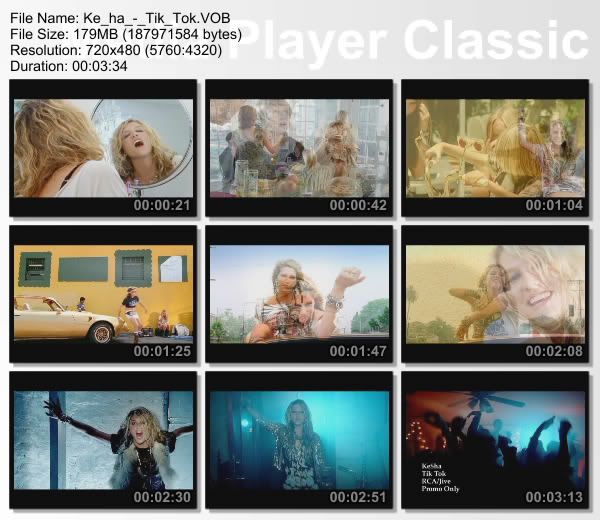 2010 - Blah Blah Blah (feat 3OH!3)
Contraseña : boys
2010 - Dirty Picture (feat Taio Cruz)
2010 - Your Love Is My Drug
Contraseña : boys
2010 - My First Kiss(feat 3OH!3)
Contraseña : boys
Other Appearances In Music Videos
2008 - Katy Perry - I Kissed A Girl (Ke$ha In The Video)
Descargar :
2009 - Flo Rida - Right Round (Ke$ha In The Video)
Despues agregare mas !!!!! Ke$ha - Kesha¡¡¡¡¡¡¡¡¡
Disfrutenlo ¡¡¡¡ y x favor comenten, unos puntos no

vendrian mal