Pantera (Info+Imágenes+Discos+Videos)
Info
BIOGRAFÍA
Formados en Texas 1981 por el guitarrista Dimebag Darrell Abbott, su hermano Vinnie Paul Abbott y el bajista Rexx "Rocker" Brown (posteriormente renombrándose Rex Brown). Pantera es una de las bandas pioneras del Groove Metal durante los 90, al haber terminado su periodo con Terry Glace y el Glam.
Pantera lanzó tres olvidados álbumes (Metal Magic, Projects In The Jungle y I Am The Night), antes de descartar al cantante Terry Glaze. Phil Anselmo proveniente de New Orleans, LA, es su reemplazante como vocalista, con él lanzaron su album Power Metal (1988), en el cual se encontraba la canción Proud To Be Loud, escrita por el guitarrista de Keel, Marc Ferrari. Estos discos anteriores se correspondían con un estilo más Hard Rock, con imagen más glamorosa y una gran influencia de Kiss (casualmente el grupo favorito en la infancia de los hermanos Abbott, junto a Judas Priest).
Cowboys From Hell (1990) marcó un cambio drástico en la música de Pantera, que se decantó por un sonido más aguerrido y poderoso, condicionado por su voz aguardentosa y los gruesos riffs de guitarra de Dimebag Darrell. Las canciones más destacadas de este álbum son la que da nombre al disco, Cowboys From Hell, Heresy, Cemetery Gates y Domination.
Posteriormente llegó Vulgar Display Of Power (1992), que presentó aún mayor madurez, más personalidad y estilo propio, destacando las letras de Anselmo, el trabajo de Dimebag Darrell en los ritmos y solos de guitarra y la peculiar sincopación rítmica a cargo de su hermano Vinnie Paul en la batería. De este disco cabría destacar los temas Walk, A New Level, This Love y Hollow.
Tras Vulgar Display Of Power, en 1994 publican el disco Far Beyond Driven, más directo y brutal que su antecesor. Durante el año 1994, el cantante Phil Anselmo, acentuó su adicción a la heroína y fue declarado muerto durante dos minutos tras una sobredosis. Esto fue el detonante para cortar de raíz su adicción. De este disco se podrían destacar los temas I'm Broken, 5 Minutes Alone y la versión realizada de la canción de Black Sabbath Planet Caravan. Con este disco ganaron un gran respeto entre los fans más acérrimos de la música más "brutal".
El siguiente álbum de Pantera, The Great Southern Trendkill, fue publicado en 1996 durante el auge del grunge. Cabe destacar los temas Drag The Waters (el único single del álbum), Floods, War Nerve y los complementarios Suicide Note Pt. I y Suicide Note Pt. II, dos canciones dedicadas por el cantante Phil Anselmo a su antigua adicción y experiencia cercana a la muerte.
En 1997 publican el disco en directo 101 Proof - Official Live, recopilando las mejores canciones de sus cuatro discos anteriores tocadas en la gira Tourkill entre 1996 y 1997, demostrando su brutal puesta en escena y su sonido en directo, uno de los puntos fuertes del grupo. También añaden dos temas inéditos grabados en estudio, Where You Come From y I Can't Hide, ambas grabadas en 1997.
Tras unos rumores infundados de ruptura del grupo, alentados por los proyectos paralelos llevados a cabo por el cantante Phil Anselmo (Down junto al bajista Rex Brown, Superjoint Ritual, Viking Crown y Southern Isolation), el grupo contraataca con su disco póstumo Reinventing The Steel (2000), recuperando un sonido más pesado donde las raíces de Black Sabbath se sienten más que en sus últimos trabajos. Las canciones destacadas de este álbum son Goddamn Electric", Yesterday Don't Mean Shit, Revolution Is My Name (primer single y vídeo en el que se puede ver a los componentes en su pre-adolescencia pintados como los componentes de Kiss) y We'll Grind That Axe For A Long Time.
Tras la gira de este disco, los rumores de ruptura se convierten en realidad cuando el cantante Phil Anselmo abandona Pantera. Llegados a ese momento, los hermanos Abbott fundan un nuevo grupo de Heavy Metal llamado Damageplan, junto al cantante y antiguo guitarrista de Rob Halford, Pat Lachman, y el bajista y también tatuador profesional Bob Zilla. Con esta nueva formación publican el álbum debut de la banda "New Found Power" (2004), con un sonido ligado con Pantera pero más actual e influenciado en parte por nuevos estilos como el Nü-Metal.
Durante la gira de presentación del grupo ocurre la catástrofe. El 8 de diciembre de 2004, exactamente 24 años después del asesinato de John Lennon, durante el concierto en el local Alrosa Villa, en Columbus, OH, Dimebag Darrell fue asesinado por Nathan Gale, un supuesto fan alienado de la banda que fue después abatido por un policía mientras portaba un rehén. Aparte del malogrado Darrell, cuatro personas más (un "fan", un empleado del lugar, un buen amigo del grupo con 5 disparos en el cuerpo y un guardia de seguridad de la banda) sufrieron heridas mortales. Esto provocó un "shock" entre los "fans" metaleros, convirtiendo a Dimebag Darrell en una leyenda.
INTEGRANTES
Philip Anselmo
Phil Anselmo es un personaje muy reconocido dentro de la escena heavy-metalera, porque, aparte de ser un gran vocalista, habla mucho, y dice siempre las cosas, aunque duelan. Por ejemplo, entró en una fuerte disputa con Metallica, criticándoles su nueva forma de tocar.
Por esto es que Phil Anselmo es un gran ídolo para todos los fanáticos de Pantera.
Actualmente, el ex vocalista de Pantera, tiene una nueva banda llamada Arson Anthem. Solo que aquí, Anselmo no canta sino que se dedica a tocar la guitarra.
http://www.myspace.com/arsonanthem
Diamond Darrell
[1966-2004]Mejor conocido como Dimebag Darrell Abbott o "bolsita de marihuana" Darrell, un guitarrista único, en una banda única. esté donde esté, cielo o infierno, su obra lo acredita a ser recordado como uno de los mejores de la historia.
Vinnie Paul
El legendario batería de Pantera y hermano del desaparecido Dimebag Darrel, Vinnie Paul Abbott, esta desarrollando un nuevo proyecto musical con miembros de las bandas Mudvayne y Nothingface. El grupo ha estado grabando y escribiendo una buena cantidad de material en Dallas, Texas, por lo que se espera que todo el resultado de la reunión plasmado en un nuevo álbum vea la luz a mediados del 2007. Ya ha sido seleccionado un nombre para la nueva banda, pero sus integrantes no lo han querido hacer público.
Rex Brown
El bajista de la banda de heavy metal estadounidense Pantera hasta su disolución en 2003. Desde entonces, se ha unido a la banda Down con Phil Anselmo (quién había sido vocalista en Pantera) para reemplazar a Todd Strange.
Discos
Metal Magic (1983)
1. Ride My Rocket
2. I'll Be Alright
3. Tell Me if You Want It
4. Latest Lover
5. Biggest Part Of Me
6. Metal Magic
7. Widowmaker
8. Nothin' On (But The Radio)
9. Sad Lover
10. Rock Out
LINK
http://www.4shared.com/file/89332701/ef23af5/Pantera_-_Metal_Magic__1983_.html
Projects in the jungle (1984)
1. All Over Tonight
2. Out For Blood
3. Blue Light Turnin' Red
4. Like Fire
5. In Over My Head
6. Projects In The Jungle
7. Heavy Metal Rules
8. Only A Heartbeat Away
9. Killers
10. Takin' My Life
LINK
http://www.4shared.com/file/89328194/f90ac055/Pantera_-_Projects_in_the_jungle__1984_.html
Pantera - I Am The Night (1985)
1. Hot And Heavy
2. I Am The Night
3. Onward We Rock
4. D*G*T*T*M
5. Daughters Of The Queen
6. Down Below
7. Come - On Eyes
8. Right On The Edge
9. Valhalla
10. Forever Tonight
LINK
http://www.4shared.com/file/89466586/14cd9af/Pantera_-_I_am_the_night__1985_.html
Pantera - Power Metal (1988)
1. Rock the World
2. Power Metal
3. We'll Meet Again
4. Over and Out
5. Proud To Be Loud
6. Down Below
7. Death Trap
8. Hard Ride
9. Burnnn!
10. P.S.T."88"
LINK
http://www.4shared.com/file/89349317/9ca25d4c/Pantera_-_Power_Metal__1988_.html
Pantera - Cowboys From Hell (1990)
1. Cowboys from Hell
2. Primal Concrete Sledge
3. Psycho Holiday
4. Hersey
5. Cemetry Gates
6. Domination
7. Shattered
8. Clash with Reality
9. Medicin Man
10. Message in Blood
11. The Sleep
12. The Art of Shredding
LINK
http://www.4shared.com/file/89353291/ee07d192/Pantera_-_Cowboys_From_Hell__1990_.html
Pantera - Vulgar Display of Power (1992)
1. Mouth for War
2. A New Level
3. Walk
4. Fucking Hostile
5. This Love
6. Rise
7. No Good (Attack the Radical)
8. Live in a Hole
9. Regular People (Conceit)
10. By Demons Be Driven (Revised)
11. Hollow
LINK
http://www.4shared.com/file/89499109/8410616d/Pantera_-_Vulgar_Display_of_Power__1992_.html
Pantera - Far Beyond Driven (1994)
1. Strength Beyond Strength
2. Becoming
3. 5 Minutes Alone
4. I'm Broken
5. Good Friends and a Bottle of Pills
6. Hard Lines, Sunken Cheeks
7. Slaughtered
8. 25 Years
9. Shedding Skin
10. Use My Third Arm
11. Throes of Rejection
12. Planet Caravan
LINK
http://www.4shared.com/file/89505652/e7605449/Pantera_-_Far_Beyond_Driven__1994_.html
Pantera - The Great Southern Trendkill (1996)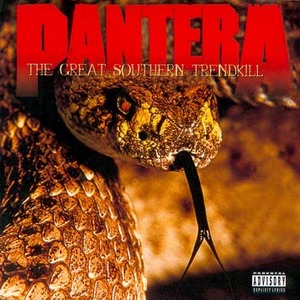 1. The Great Southern Trendkill
2. War Nerve
3. Drag the Waters
4. 10's
5. 13 Steps To Nowhere
6. Suicide Note PT. I
7. Suicide Note PT. II
8. Living Through Me (Hell's Wrath)
9. Floods
10. The Underground in America
11. (Reprise) Sandblasted Skin
LINK
http://www.4shared.com/file/89521522/5fc5b8e0/Pantera_-_The_Great_Southern_Trendkil__1996_.html
Pantera - Official Live - 101 Proof (1997)
1. New Level
2. Walk
3. Becoming
4. 5 Minutes Alone
5. Sandblasted Skin
6. Suicide Note Pt. 2
7. War Nerve
8. Strength Beyond Strength
9. Dom/Hollow
10. This Love
11. I'm Broken
12. Cowboys From Hell
13. Cemetary Gates
14. Hostile
15. Where You Come From
16. I Can't Hide
LINK
http://www.4shared.com/file/89511350/bda74969/Pantera_-_Oficial_Live_101_Proof__1997_.html
Pantera - Reinventing the Steel - The Best (2000)
1. Hellbound
2. Goddamn Electric
3. Yesterday Don't Mean Shit
4. You've Got to Belong to It
5. Revolution Is My Name
6. Death Rattle
7. We'll Grind That Axe for a Long Time
8. Uplift
9. It Makes Them Disappear
10. I'll Cast a Shadow
LINK
http://www.4shared.com/file/89518233/e3e9ae8/Pantera_-_Reinventing_The_Steel__2000_.html
Pantera - The Best of Pantera (2003)
01. Cowboys From Hell
02. Cemetery Gates
03. Mouth For War
04. Walk
05. This Love
06. Im broken
07. Becoming
08. 5 minutes alone
09. Planet caravan
10. Drag the waters
11. Where you come from (live)
12. Cat scratch fever
13. Revolution Is My Name
14. Ill cast a shadow
15. Goddamn electric
16. Hole in the sky
LINK
http://www.4shared.com/file/89634946/8bc28937/Pantera_-_The_best_of_Pantera__2003_.html
Imágenes
Videos
Fuentes
www.pantera.com
es.wikipedia.org/wiki/Pantera_(banda)
Imágenes de www.deviantart.com
Los discos están resubidos por mí, o sea que no es REPOST.
Espero que les guste.
PANTERA