U2 ofrece su último disco "Songs of Innocence" gratis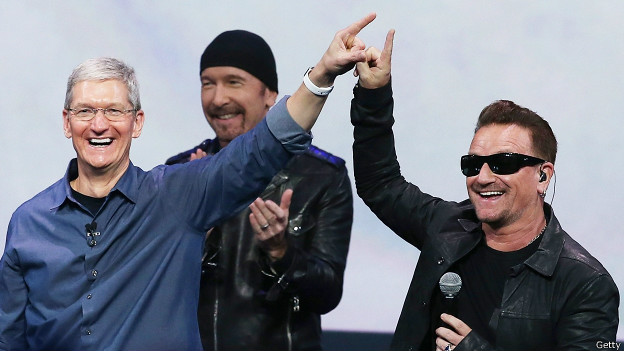 Durante el evento organizado por la firma Apple este martes en Cupertino (California, Estados Unidos), el grupo musical irlandés U2 anunció que su nuevo disco "Songs of Innocence" se puede descargar de forma gratuita en iTunes.
Bono, líder y vocalista de U2, presentó el nuevo disco e interpretó la canción "The Miracle (of Joey Ramone)" en el escenario del Flint Center en Cupertino, donde la empresa Apple reveló los detalles de su primer reloj inteligente y los dos últimos modelos de iPhone.
El primer álbum de U2 en cinco años contiene 11 canciones y está disponible en 119 países en iTunes, iTunes Radio y Beats Music, una empresa esta última que Apple adquirió en agosto.
"La música está muy metida en el ADN de Apple, está en el centro de todos nuestros productos", dijo el director ejecutivo de Apple, Tim Cook, durante su aparición conjunta con Bono.
El álbum estará disponible de forma exclusiva a través de las plataformas de Apple hasta el 13 de octubre.