Eisenberg y Labeouf para Arms & The Dudes
EISENBERG Y LABEOUF PARA ARMS & THE DUDES.
Todd Phillips (The Hangover) piensa en el actor de Transformers y el de The Social Network para que encabecen su próximo proyecto, acerca de dos jóvenes fumadores de marihuana devenidos en traficantes de armas en Afganistán....
Hace casi tres años que Todd Phillips intenta sacar adelante Arms & The Dudes, la adaptación de una historia increíble pero cierta que provino de un artículo de Rolling Stone. A lo largo de dicho tiempo, el director de Old School y The Hangover ha tenido distintos acercamientos al proyecto con diferentes actores, pero ahora TheWrap reporta que podría haber encontrado a su dupla protagonista en Shia LaBeouf y Jesse Eisenberg.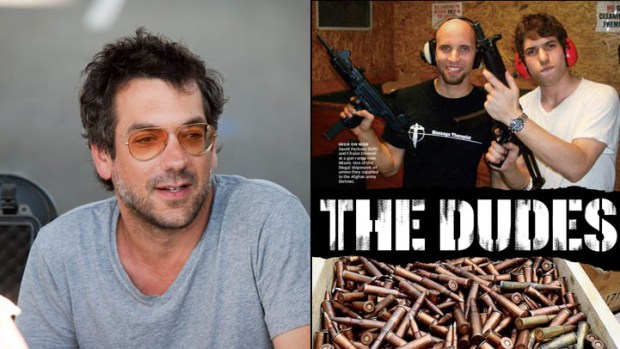 Jason Smilovic (Lucky Number Slevin) es quien escribió el guión, acerca de la historia real de dos jóvenes fumadores de marihuana que ganaron un contrato de 300 millones de dólares con el Pentágono para proveer de municiones a los aliados norteamericanos en Afganistán. Después de 85 entregas al país devastado por la guerra, por un valor de 66 millones, sus oficinas de Miami fueron allanadas por agentes federales que los traicionaron y los dos fueron condenados por 71 casos de fraude.

LaBeouf, quien supuestamente se iba a retirar de la industria tras el escarnio público por su caso de plagio, tiene en camino el drama bélico Fury, de David Ayer, y se acaba de sumar a Man Down, de Dito Montiel. Eisenberg, por su parte, goza de un mejor pasar que el otro y tiene en post-producción The End of the Tour de James Ponsoldt (The Spectacular Now) y American Ultra, del director de Project X. Además se encuentra al rodaje del drama Louder Than Bombs y del tanque Batman v Superman: Dawn of Justice, a la vez que se prepara para que se ponga en marcha la secuela de Now You See Me. ¿Qué les parece la dupla?
-*-

E L O T R O L A D O D E L O S

O S C A R

-*-
- 75 Infografias de PELICULAS -
-Mis Post de GOT-
Mas de 40 Infografias de Games Of Thrones
Game Of Thrones

Curiosidades y mas


Entra

ACA
-

COMUNIDADES

-