Frases de George Orwell... La visión de un grande.
Un 25 de junio de 1903 nació Eric Arthur Blair. Es probable que este nombre no les remita a nada, pero si les hablo de su seudónimo literario, seguramente lo reconocerán al instante. Hablo de George Orwell, uno de los escritores británicos más brillantes de la historia contemporánea. Periodista, ensayista y novelista, Orwell tuvo una obra prolífica y vasta. Empero, sus novelas "Rebelión en la granja" y "1984" son sus trabajos más reconocidos, en los cuales, su prosa poderosa transmite una visión profética sobre los alcances del totalitarismo y los límites de la libertad humana. Su obra ha calado tan profundamente a la sociedad occidental, que el adjetivo orwelliano es bien reconocido como sinónimo de lo autoritario.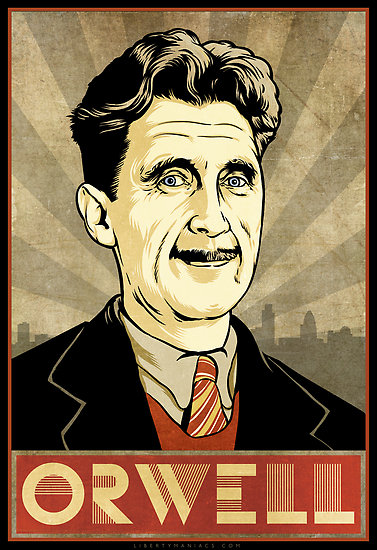 El Gran Hermano te observa. (Big Brother is watching you.)

Toda la propaganda de guerra, todos los gritos y mentiras y odio, provienen invariablemente de gente que no está peleando. (All the war-propaganda, all the screaming and lies and hatred, comes invariably from people who are not fighting.)

Doblepensar significa el poder de mantener dos creencias contradictorias en la mente simultáneamente, y aceptar ambas. (Doublethink means the power of holding two contradictory beliefs in one's mind simultaneously, and accepting both of them.)


"Cada guerra, cuando ocurre o antes de que ocurra, es representada no como una guerra, sino como un acto de defensa propia contra un maniático homicida". (Every war when it comes, or before it comes, is represented not as a war but as an act of self-defense against a homicidal maniac.)


"La libertad es el derecho a decirle a la gente lo que no quieren escuchar" (Freedom is the right to tell people what they do not want to hear.)


"Si quieres una visión del futuro, imagina una bota estampándose en un rostro humano - por siempre" (If you want a vision of the future, imagine a boot stamping on a human face - forever.)


"En un tiempo de engaño universal - decir la verdad es un acto revolucionario" (In a time of universal deceit - telling the truth is a revolutionary act.)


"En nuestra época no existe tal cosa como 'mantenerse fuera de la política'. Todas las cuestiones son cuestiones políticas, y la política misma es una masa de mentiras, evasivas, tonterías, odio y esquizofrenia". (In our age there is no such thing as 'keeping out of politics.' All issues are political issues, and politics itself is a mass of lies, evasions, folly, hatred and schizophrenia.)


"El lenguaje debe ser la creación conjunta de poetas y trabajadores manuales" (Language ought to be the joint creation of poets and manual workers.)


"El hombre es la única criatura que consume sin producir. Él no da leche, no pone huevos, es demasiado débil para jalar el arado, no puede correr lo suficientemente rápido para atrapar conejos. Y aún así, es señor de todos los animales". (Man is the only creature that consumes without producing. He does not give milk, he does not lay eggs, he is too weak to pull the plough, he cannot run fast enough to catch rabbits. Yet he is lord of all the animals.)


"Es poco probable que la Humanidad pueda salvaguardar la civilización a menos que pueda evolucionar en un sistema de bien y mal que sea independientes del cielo y el inferno" (Mankind is not likely to salvage civilization unless he can evolve a system of good and evil which is independent of heaven and hell.)


"Los hombres sólo pueden ser felices cuando ellos no asuman que el objetivo de la vida es la felicidad" (Men can only be happy when they do not assume that the object of life is happiness.)


"Los mitos que son creídos tienden a convertirse en verdaderos" (Myths which are believed in tend to become true.)


"En lo que cabe, los seres humanos quieren ser buenos, pero no demasiado buenos ni todo el tiempo" (On the whole, human beings want to be good, but not too good, and not quite all the time.)


"El patriotismo es normalmente más fuerte que el odio de clases y siempre más fuerte que el internacionalismo" (Patriotism is usually stronger than class hatred, and always stronger than internacionalismo.)


"El lenguaje político está diseñado para hacer que las mentiras suenen confiables y el asesinato, respetable; y para darle la apariencia de solidez al mero viento" (Political language... is designed to make lies sound truthful and murder respectable, and to give an appearance of solidity to pure wind.)


"El progreso no es una ilusión; ocurre, pero es lento e inevitablemente decepcionante" (Progress is not an illusion, it happens, but it is slow and invariably disappointing.)


"El deporte serio es la guerra sin el tiroteo" (Serious sport is war minus the shooting.)


"Un chiste picante es una especie de rebelión mental" (A dirty joke is a sort of mental rebellion.)


Pero si el pensamiento corrompe el lenguaje, el lenguaje también puede corromper el pensamiento.


Ver lo que tenemos delante de nuestras narices requiere una lucha constante.

Pueden forzarte a decir cualquier cosa, pero no hay manera de que te lo hagan creer. Dentro de ti no pueden entrar nunca.



Es imposible describir cuán significativo ha sido el aporte de Orwell al mundo. Conceptos descritos en su obra como el Gran Hermano, la Policía del Pensamiento o el Ministerio de la Verdad has traspasado las barreras literarias para ser retomados (a veces, de formas que no nos hubiera gustado) en la vida cotidiana. Su visión crítica de la sociedad, la guerra y los gobiernos ha influido en cientos de escritores y millones de lectores. Hoy en día, Orwell cumpliría 109 años, y vería (aterrado, quizá) cómo buena parte de lo que describió en sus obras se ha vuelta realidad.