RE6, mas info...
Wenas
,como andan? boludeando en la web encontre este artc. no dice mucho mas que lo ya dicho, pero lo encontre en una pag web que recurro de vez en cuando para ven noticias de games. Aca va: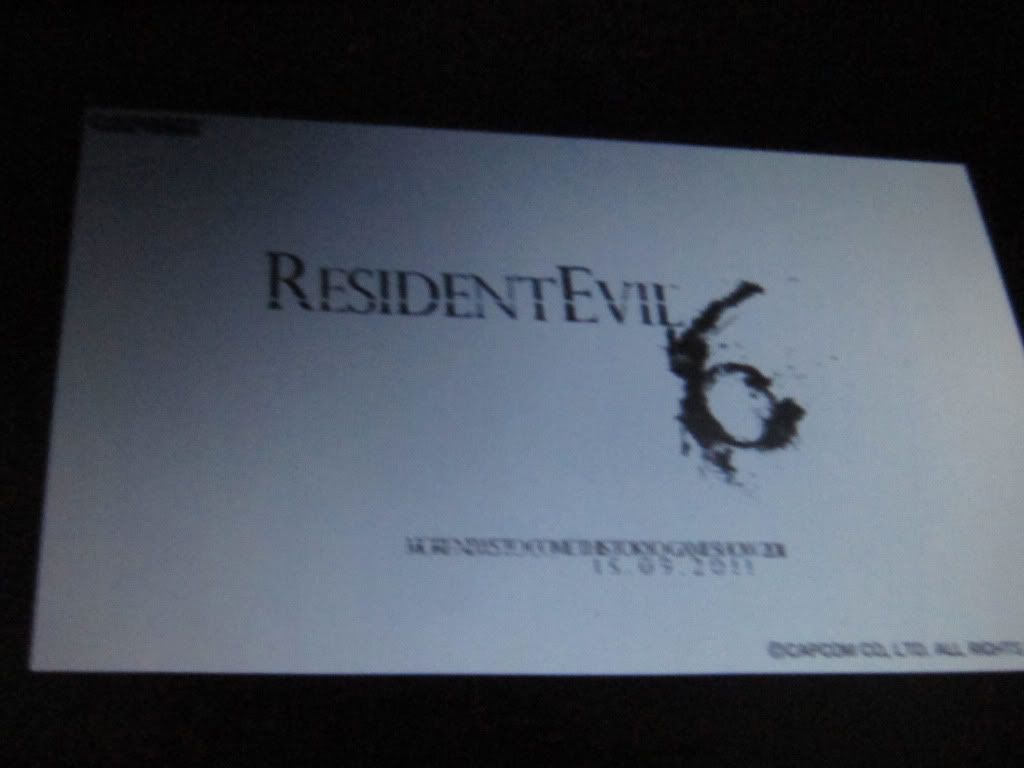 "today I was invited to the Capcom closed door press conference at San Diego Comic-con and they showed us some presentations about details on upcoming Capcom games and other stuff like about their marketing and other but the most interesting thing is that they confirmed and showed us Resident Evil 6 logo. they didnt give out any details about he game but said more updates about it will be given this TGS September 15Tth. we were not allowed to record video or even take photos during the conference but i managed to take a photo without anyone noticing"
Fuente:
http://helldescent.com/forums/showthread.php?p=334078post334078
"Resident Evil 6 es uno de los juegos más esperados de la actualidad. La quinta parte de la saga de terror no fue tan terrorífica como esta acostumbra, estando más cercana al género de la acción que a cualquier otra cosa, lo cual no gustó mucho a los fans más hardcore de Resident Evil. Capcom ha afirmado en varias ocasiones que el horror volverá a ser el protagonista absoluto en RE 6, así que todo el mundo está deseando conocer algún detalle de este juego.

Y la presentación de la sexta parte de Resident Evil podría estar muy cercana. Este año se celebra el 15 aniversario de la saga y Capcom lo va a celebrar lanzando un recopilatorio llamado Resident Evil 15th Anniversary, un pack que incluirá la mayoría de los capítulos de Resident Evil, incluidas las versiones en HD de Code Veronica y RE 4, las cuales, también se venderán por separado. En Japón, estos productos se pondrán a la venta durante el mes de septiembre, y quizás podrían coincidir con el anuncio de Resident Evil 6.

Porque, según el medio Rely on Horror, el día 15 de septiembre, justamente el día en que comienza el Tokyo Game Show, podría ser anunciado este esperado juego. Este rumor ha sido provocado por una imagen que ha llegado a manos de la gente del citado medio, una imagen que supuestamente habría partido de un acto privado de Capcom que tuvo lugar en la reciente Comic-Con en San Diego.

En esta imagen, que está claramente tomada por un móvil, se puede ver el logo de RE 6 junto a la citada fecha: 15.09.2011. Encima de esta fecha aparecen otras letras que apenas se pueden distinguir, aunque podrían ser una dirección web. La imagen podéis verla acompañando a este artículo, aunque recordad que bien podría tratarse de un fake."
Fuente:
http://www.guiamania.com/videojuegos/24518.php
Tambien tuve viendo otras pag, pj en www.cheatcc.com y encontre esto:
"RUMOUR: Resident Evil 6 details coming at Tokyo Games Show, Capcom to reveal all September 15.:
The first details regarding Resident Evil 6 are set to be unveiled just a couple of months according to a leaked logo snapped up during a behind closed doors Comic-Con press conference.

Nothing more than a logo was shown according to the culprit who caught the logo on his camera but if authentic, Capcom are getting ready to drop the first information on the game in less than two months time at September's Tokyo Game Show.
The logo reads "15.09.2011" which coincides with the opening day of TGS which will run September 15-18.
This year marks the 15th anniversary of the Resident Evil series and has already seen the release of Resident Evil: The Mercenaries 3D on Nintendo 3DS.
Other releases this year include Slant Six Games' Resident Evil: Operation Raccoon City and HD remakes of Resident Evil 4 and Resident Evil: Code Veronica X."
Fuente:
http://www.gamerzines.com/xbox-360/news/resi-6-info-coming-september.html
Cualquier cosa q no entiendan ingles, aca traductor
:
http://translate.google.com.ar/
Aguante RE! jaja