Supernatural 6x15 The French Mistake spoiler
SAM AND DEAN ARE TRANSPORTED TO AN ALTERNATE REALITY — Raphael (guest star Lanette Ware) launches an attack on Castiel (Misha Collins) and his allies, sending a particularly frightening angelic hitman (guest star Carlos Sanz) after Balthazar (guest star Sebastian Roche), Sam (Jared Padalecki) and Dean (Jensen Ackles)... In an effort to protect the brothers, Balthazar sends them to an alternate universe where they are the stars of a TV show called "Supernatural" and they are actors named "Jensen Ackles" and "Jared Padalecki." The brothers are confused when Castiel appears to be a tweet-happy actor named Misha Collins and Sam is married to Ruby (Genevieve Cortese ).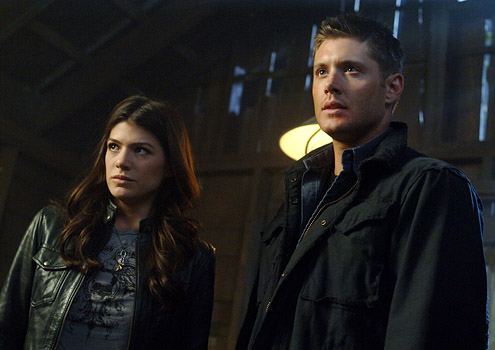 Traduccion
Sam y Dean son transportados a un universo alterno por Balthazar, donde "ellos son estrellas de un programa de Televison llamado Supernatural", donde son conocidos como, "Jensen Ackles" y "Jared Padalecki".
Que en este universo alterno Cass es un actor tambien conocido como "Misha Collins" y Sam esta casado con la que hizo de ruby en la 4 temporada de Supernatural (Genevie Cortese que en la vida real es la esposa de Jared).
Tambien lei en otros lados que aparecerian, tal vez los creadores de supernatural, Robert Singer, Sera Gamble y Eric Kripke.
El capitulo se estrenaria el 25 de febrero.
Mi opinion la verdad no se que pensar de esto pero tal vez este muy bueno xD
Fuente:
http://www.comicbookmovie.com/fansites/Dustin03Comics/news/?a=29641
http://entertainment.gather.com/viewArticle.action?articleId=281474978934325